Full article: https://www.irishtimes.com/business/technology/silicon-valley-still-believes-in-promise-of-easy-blood-tests-despite-theranos-scandal-1.4667352
Investors have poured more than $200m into developing a small device in the past year alone.
Silicon Valley still believes it can build a computer that can diagnose medical problems from drops of blood, even as the founder of failed start-up Theranos appeared in court this week on charges of defrauding investors with such a vision.
In the past 12 months alone, investors have poured more than $200m into three start-ups that are trying to build small blood-testing devices, in a sign that the Theranos scandal has not harmed the rapidly growing market for medical diagnostics.
Verily, the life sciences division of Google's parent company Alphabet led a $50m round of financing in January for Genalyte, which has created a benchtop machine that promises to perform multiple rapid tests on small amounts of blood. Andy Conrad, the chief executive of Verily and a former chief scientific officer of LabCorp, joined the company's board.
General Catalyst, the more than $8bn venture capital firm chaired by former American Express chief executive Ken Chenault, backed Truvian Sciences in a $105m round of funding in February. Truvian is working on a portable machine that can "fulfill the promise of delivering accessible blood testing from one small blood sample in minutes", according to its website.
And Sight Diagnostics, an Israeli company that has received limited approval from the Food and drug Administration to perform a complete blood count using its portable device, raised $71mfrom investors last August that included the venture capital arm of Koch Industries.
The onus is on us to demonstrate that this is a safe and eff ective way of doing diagnostics

Ashraf Hanna, Genalyte CEO
Companies in the broader equipment diagnostics category raised $6.1bn through to the end of August this year, according to PitchBook data, more than all of last year and almost triple the total haul in 2019.
Start-ups said the rise and spectacular fall of Theranos, whose founder Elizabeth Holmes is currently on trial in California for fraud, has forced them to work harder to overcome skeptical investors, but has also helped to shine a light on the size of the potential market. The coronavirus pandemic also accelerated demand, they said.
Cue Health, which has developed a palm-sized device that can conduct a variety of tests, estimated the market for diagnostics at $85bn in a recent filing for an initial public offering. Cue said its device could be used to test blood samples for infections such as Hepatitis C and HIV.
Luc Gervais, who raised more than $4m for his start-up 1Drop Diagnostics after Theranos'scollapse in 2018, said his backers had asked him for more papers and scientific data, something that he claimed had worked to his advantage. "It turned out better than we expected," Gervais said.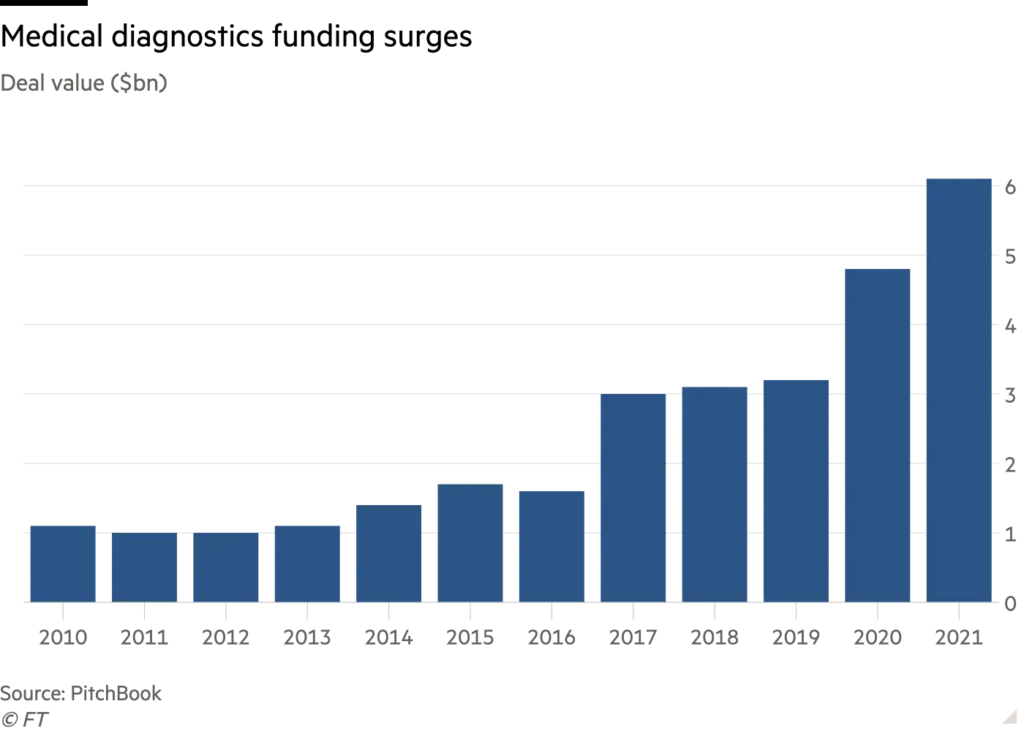 "Some pharmacy-based testing may be complementary to clinical laboratory testing, but not disruptive," said Edward Ashwood, professor and vice-chair for clinical pathology at the University of Colorado School of Medicine.
Many of the start-ups still lack peer-reviewed results for a wide range of the tests they are developing, an issue that drew the attention of early critics of Theranos.
Genalyte chief executive Ashraf Hanna, who joined the company late last year, said Verily brought in scientists and engineers to review the company's machine, test lab procedures, and perform an audit of its intellectual property before investing.
"Investors are much more shrewd," said Hanna, who is also a former Verily executive.
The Food and Drug Administration has approved Genalyte's Maverick device to test for an autoimmune disorder and for Sars-Cov-2 antibodies. Genalyte plans to submit a wider range of tests for FDA approval by the end of the year.
"The onus is on us to demonstrate that this is a safe and effective way of doing diagnostics that is as accurate, if not more accurate, than what we do today," Hanna said. "I think the FDA would welcome that."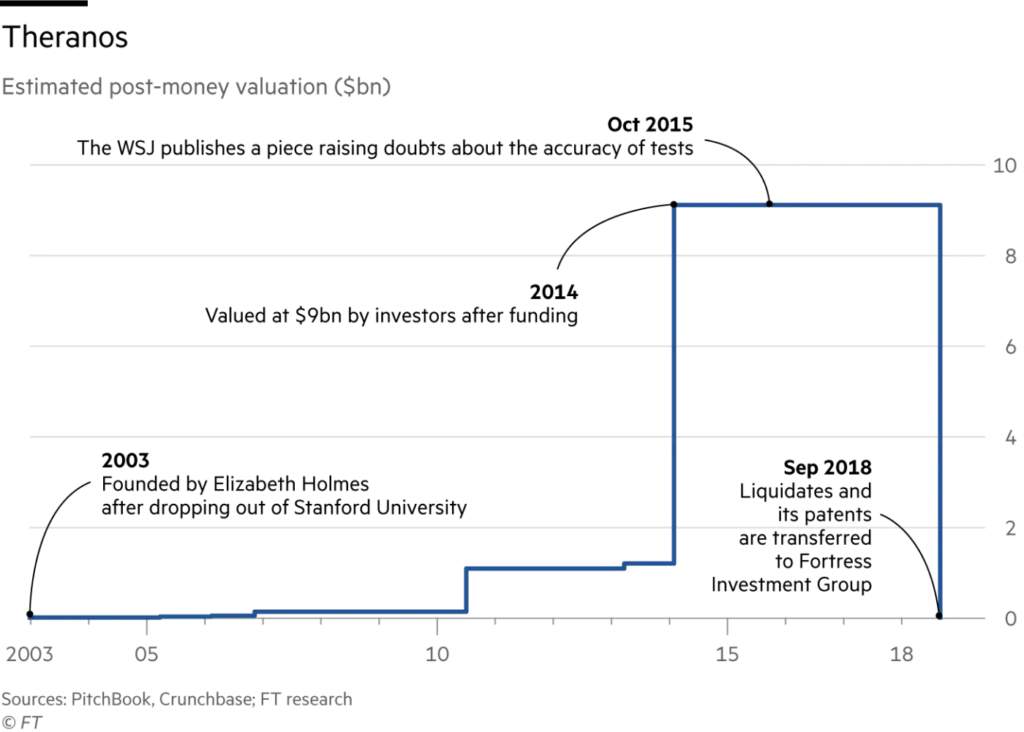 The downfall of Elizabeth Holmes and Theranos
2003
Elizabeth Holmes founds Theranos aged just 20 after dropping out of Stanford University
2004
Theranos raises its first round of funding from investors including Tim Draper's DFJ
2013
Walgreens begins offering Theranos tests in Palo Alto, California
2014
Fortune profiles Holmes and Theranos, revealing the company has been valued by investors at$9bn
SEP 2015
Theranos halts its trademark finger prick blood collection method following FDA scrutiny
OCT 2015
The Wall Street Journal publishes an investigation raising doubts about the accuracy of Theranostests
JAN 2016
The Centers for Medicare and Medicaid Services tells Theranos that its laboratories pose risks to patients
JUN 2016
Walgreens ends its partnership with Theranos
MAR 2017
Theranos settles a lawsuit brought by one of its investors, Partner Fund Management, which had invested almost $100m
MAR 2018
The SEC brings fraud charges against Theranos, Holmes, and former president Ramesh Balwani. Holmes and Theranos settle charges
JUN 2018
The DoJ indicts Balwani and Holmes on charges of defrauding investors and patients
SEP 2018
Theranos is liquidated and its patents are transferred to Fortress Investment Group